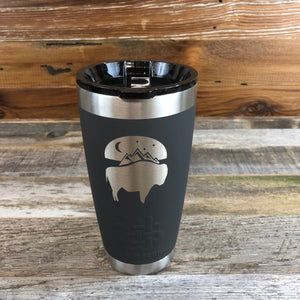 Bison Moon Tumbler | 20 oz | Charcoal
Bison Moon Tumbler | 20 oz | Charcoal
The WyoMade Bison Moon Tumbler is pure beverage containment for 20 ounces of your favorite hot or cold drink.  It comes with a smooth-flow sippy-lid for direct beverage enjoyment.
This Charcoal colored Tumbler is designed for any Wyoming lifestyle and will surely allow you to roam free with your favorite beverage.
Bring some life to the herd with a Bison Moon Tumbler from WyoMade.