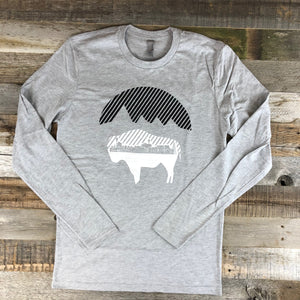 Bison Moon Cityscape Long Sleeve Tee | WyoMade Apparel | Unisex
Bison Moon Cityscape Long Sleeve Tee | Unisex
This Citiscaped Bison Moon puts an architectural twist on our iconic T-shirt design from WyoMade Apparel! 
The Bison represents freedom and is a staple of Wyoming's open spaces while the Citiscape is representative of its WyoMade origins in Casper. This Heather Grey colored Long Sleeve Tee is sure to appease your desire to roam free.
Be a part of the herd in a comfy Bison Moon Long Sleeve Tee designed for both men and women.
Offering sizes ranging from:
X-Small
Small
Medium
Large
Extra Large - XL
Double Extra Large - XXL
WyoMade is a Wyoming Craft Apparel brand.