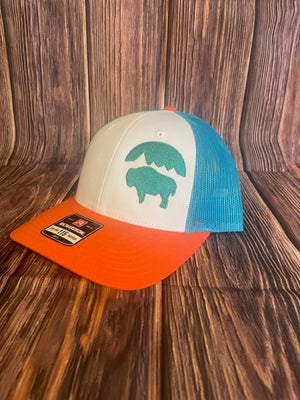 Bison Moon Embroidered Hat/ White, Havana Blue and Orange
This Embroidered Bison Moon puts a stylish twist on our iconic T-shirt design from Wyomade Apparel!
The Bison represents freedom and is a staple of Wyoming's open spaces while the Mountains represent its Wilderness. This Multi Colored Hat is sure to appease your desire to roam free and get out into the wild.
Be a part of the herd in a one-sized fits most Bison Moon Hat from WyoMade.
Offering sizes ranging from: One size fits most/ Snapback