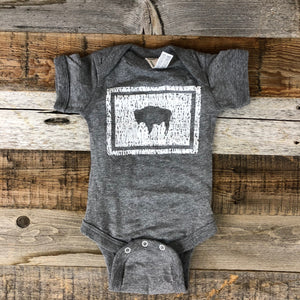 Bison Flag Onesie | WyoMade Apparel | Youth
Bison Flag Onesie | Youth
The Bison Flag Onesie is our innocent representation of the Wyoming State Flag from WyoMade Apparel! 
The Bison represents freedom and is a staple of Wyoming's open spaces. This Grey Bison Flag Onesie is sure to let the little ones roam free.
Let 'em be a part of the herd in a comfy Bison Flag Onesie from WyoMade Apparel.
Offering sizes ranging from:
Newborn
6 Months
12 Months
18 Months
24 Months
WyoMade is a Wyoming Craft Apparel brand