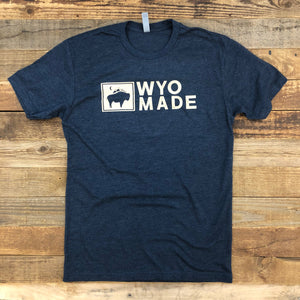 WyoMade Logo Tee | WyoMade Apparel | Unisex
WyoMade Logo Tee | Unisex
The reinvented WyoMade Apparel Logo is a modern twist on our long time iconic design from WyoMade Apparel! 
The Bison represents freedom and is a staple of Wyoming's open spaces. This Seafoam colored T-shirt is sure to appease your desire to roam free.
Be a part of the herd in a comfy Bison Moon Logo Tee designed for both men and women.
Offering sizes ranging from:
X-Small
Small
Medium
Large
Extra Large - XL
Double Extra Large - XXL
WyoMade is a Wyoming Craft Apparel brand located in the heart of Downtown Casper, Wyoming.